Electronics Project and Design Blog
Welcome to our blog on electronics project and design. It will give you the latest updates on electronics projects, latest update on electronics components and also inform you of any new pages added into this website.

To subscribe (no e-mail necessary), all you have to do is right-click on the orange RSS button (see buttons to the left), copy shortcut and then paste the URL into your RSS reader. Alternatively, you can just click on the My Yahoo! button or My MSN or Add To Google button if you keep a personalized home page there.


Garden Watering Circuit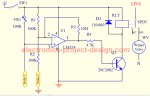 Experiment and test out this automatic garden watering circuit that will detect the moisture of the soil and on or off the water valve accordingly.